April 2013 E-Current
| | |
| --- | --- |
| | UNITING COMMUNITIES TO SAVE CORAL REEFS |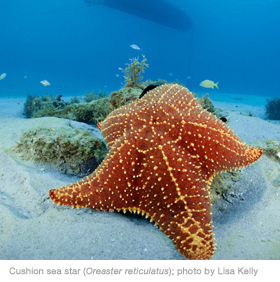 Sea Star Wins Photo Contest!
Congratulations to CORAL supporter Lisa Kelly of Pembroke Pines, Florida, for sending us the winning shot in our April E-Current photo contest! Lisa captured this stunning wide-angle image of a cushion sea star (Oreaster reticulatus) at the popular Blue Heron Bridge dive site in southeastern Florida. The shallow, sandy-bottomed area is known for its high diversity of fish and invertebrates and a smattering of hard and soft corals, which attach to the bridge's pylons.
Have a great underwater or other coral-related photo you'd like us to see? If you live in the United States, we're now accepting submissions for our July contest (we've already selected our May winner, and it's a good one). Visit our photo contest page to see some of our past winners and to learn how to enter your own photos. Read More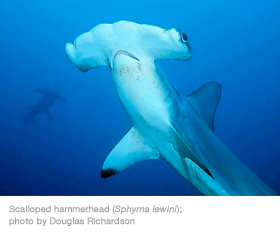 Sharks and Rays Get a Boost
Better protection for sharks and rays is finally on the way. In March, CITES member nations voted to list the oceanic whitetip shark, three species of hammerhead sharks (scalloped, smooth, and great), the porbeagle shark, and both species of manta rays under CITES Appendix II. With that listing, sharks and rays can still be exported, but permits will be required. Countries can only issue permits if fishers prove they are taking these sharks at legal and "sustainable" rates, which, considering the drastic decline of sharks in recent years, might be hard to do. Read More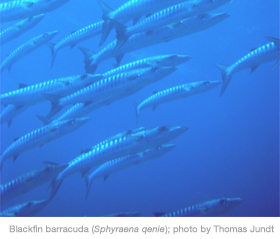 Local Management Works
Protected marine areas managed by local communities—CORAL's model—help boost fish populations in both local and neighboring waters, according to new research published in Current Biology. The team used genetic samples from fish fins to determine the fate of young fish spawned in a small protected area. A significant number of offspring returned to nearby waters, demonstrating that protecting even very small areas helps ensure future generations of fish for the local community. Read More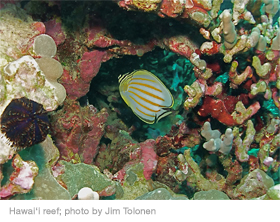 Walking the (Reef) Talk
Please do not kick or stand on a coral reef! Stay 100 yards away from a whale, and never place your vessel between a mother and her calf. Never feed any marine creatures, including fish.
These are just a few of the guidelines in CORAL's West Hawai'i Voluntary Standards for Marine Tourism, recommendations for environmentally responsible behavior adopted by many of Hawai`i's marine recreation providers. Last year, CORAL expanded our training program on the standards, offering online as well as in-person trainings, with the goal of reaching even more marine recreation staff. Read More