August 2013 E-Current
| | |
| --- | --- |
| | UNITING COMMUNITIES TO SAVE CORAL REEFS |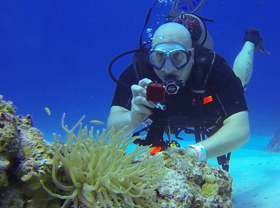 Rick MacPherson conducts research at Yucab Reef in Mexico's Cozumel Marine Park earlier this year; photo by CORAL staff
Scuba Diving Sea Hero Is Our Hero Too

Scuba Diving magazine has named CORAL Conservation Programs Director Rick MacPherson as its August Sea Hero. Their news release highlights Rick's "work to build a global team of local conservation leaders in every country in which CORAL works." The purpose of the award is to spotlight people working to "save our seas through action-oriented education and conservation," according to Mary Frances Emmons, the magazine's Senior Editor.
As the leader of our conservation initiatives over the last nine years, Rick has definitely been one of CORAL's heroes as well. That's why his recent announcement that he'll be leaving CORAL to pursue other opportunities in marine conservation is heartbreaking for all of us. Rick's contributions to CORAL could fill several books, but a few highlights include his developing the Coral Reef Sustainable Destination model for improving coral reefs and local reef management around the world; growing our site-based work with our field managers and representatives; and launching the Coral Reef Leadership Network as well as standards for diving, boating, and snorkeling.
Says CORAL's Executive Director, Michael Webster, "Rick has been instrumental in growing CORAL's focus on working with communities to find solutions that work for people and reefs. He's brought extraordinary attention to community needs and partnerships and a great amount of passion to that process."
We wish him the best in his future adventures! Read the Scuba Diving Interview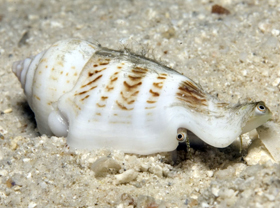 The humpbacked conch snail jumps backwards and sideways to avoid predators; photo by Gustav Paulay, Moorea Biocode
When the tiny (1.8 centimeter tall by 3.7 centimeters long) humpbacked conch snail (Gibberulus gibberulus) that lives in the sand around some coral reefs senses its main predator, the marbled cone shell, nearby, it extends its modified foot and jumps backwards and slightly to the side. In a study on predicted effects of climate change, researchers from the James Cook University wanted to find out if the tiny snail would still be able to accomplish its great leaps—as high or even higher than the snail itself—in warmer water. It turns out that the snails can still perform their jumps even when water temperature is as high as 37°C. That ability may bode well for the snail as the ocean warms, but researchers caution that increasing CO2 levels and ocean acidification could still harm these animals. Read More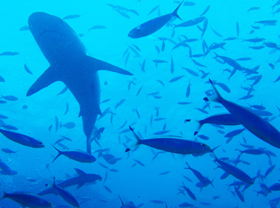 Shark populations in the Namena Marine Reserve are two to four times greater than those outside; photo courtesy of Pew Environment Group
Since 2004, CORAL has worked alongside the people of Kubulau in Fiji to strengthen the Namena Marine Reserve through projects like a dive tag program that generates revenue for enforcement and community benefits, including scholarships for children, and the installation of mooring buoys to prevent anchor damage. But have our efforts within this 70 square kilometer (27 square mile) protected area been effective for preserving the reef ecosystem?
According to a newly published study by University of Western Australia researchers and their partners, the answer is yes—at least at the top predator level. Using remote underwater video cameras, the researchers compared numbers of sharks at eight locations within and eight sites outside the reserve, concluding that the reserve has two to four times the number of sharks than in areas where fishing is allowed. Read More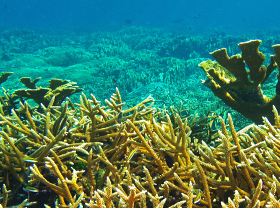 The complex relationship between Acropora corals and bacteria may offer clues about the origins of the human immune system; photo by CORAL staff
Corals Co-Exist With and Fight Bacteria

Corals produce compounds that help fight cancer and many other human diseases, and it turns out their ancestor may also be the originator of our ability to fight off bacterial infections. Researchers at the ARC Center of Excellence for Coral Reef Studies recently found three genes in Acropora corals that show a quick and strong immune response to the presence of bacterial proteins. These genes, which belong to a family known as the GiMAPs, are also found in humans, and may be critical in helping us to understand and bolster corals' ability to fight disease.
In another study on corals and bacteria, researchers at Woods Hole Oceanographic Institution and King Abdullah University of Science and Technology found that a reef-building coral in the Indian and Pacific Oceans, Stylophora pistillata, hosts the bacteria Endozoicomonas deep in its tissues. While scientists have long known that corals host algae and bacteria in their bodies, they had not been able to figure out exactly where—just under the coral's outer surface or deep in their tissues—the bacteria lived until now. Next step: figure out why they're there and if and how they benefit the coral. One researcher suspects they may help corals recycle nutrients. Read More