October 2013 E-Current
| | |
| --- | --- |
| | UNITING COMMUNITIES TO SAVE CORAL REEFS |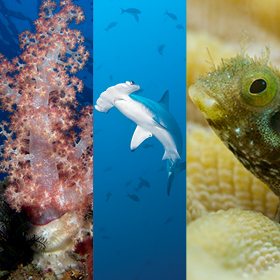 From left, soft tree coral (Nephthya sp.), scalloped hammerhead (Sphyrna lewini), secretary blenny (Acanthemblemaria marias); photos by Nick Hobgood, Dmitry Miroshnikov, Jim van Gogh
We want to hear from you! In each issue of our newly designed quarterly print newsletter, CORAL Current, we are featuring a different group of coral reef critters—types of coral, fish, or other reef denizens. So far we've featured parrotfish and staghorn, mushroom, and tabletop (hard) corals. Of the following, which would you like to learn more about and see more of in the next issue?
• Soft corals
• Sharks
• Blennies—or other secretive coral reef fish
Please email info@coral.org with your choice by Wednesday, October 16 and make sure to include "CORAL Current Voting" in the subject line; we'll do a random drawing of your responses and send one of you a brand new CORAL polo shirt to thank you for your ideas. Tell Us Your Choice
Jenny's persistence is helping preserve a rare jewel of a reef; photo by Jim Tolonen
When Jenny Myton, CORAL's field manager in Honduras, began diving to survey fish during her university studies, her snorkel mask kept fogging up from her tears—of fear. "I was very afraid of the ocean—I'd been injured by a jellyfish or ray as a child," she recalls. But her fear disappeared after she cleared her mask and then knelt on the sandy bottom to look at a reef. "I forgot everything and fell in love," she says. For the past seven years, Jenny has been a force of nature in Honduras, gaining better protection for reefs by partnering with all kinds of people: government officials, staff from other NGOs, the Roatan Marine Park team, and other Honduran citizens. In September, the government moved forward a management plan for Cordelia Banks, an outcome Jenny had been working toward for six years: Cordelia Banks is a unique reef covered in extraordinary coral. Today, Jenny is working to build momentum for a network of well-managed and ecologically connected marine protected areas across the Bay Islands. Read More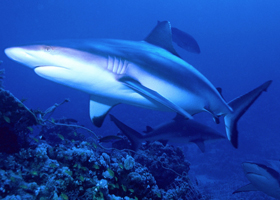 Top-level predators like the grey reef shark (Carcharhinus amblyrhynchos) are important to the balance of marine ecosystems; photo by Albert Kok via Wikimedia Commons
The naturalist John Muir once wrote, "When we try to pick out anything by itself, we find it hitched to everything else in the Universe." Muir's premise is borne out by new findings from scientists with the Australian Institute of Marine Science published in the journal PLOS ONE. The researchers conducted long-term monitoring of reefs off Australia's northwest coast and found that there were fewer herbivores—fish like parrotfish that keep reefs healthy by grazing on algae that can coat and suffocate reefs—when shark numbers were low. Read More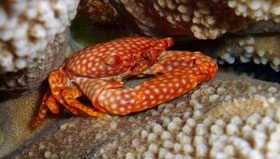 Crustaceans like this yellow-spotted guard crab (Trapezia flavopunctata) keep other animals in the ecosystem healthy by cleaning them of parasites and debris; photo by Pauline Fiene
Despite their tough exteriors, crustaceans like lobster, crab, and shrimp could be quite vulnerable if coral reefs decline, according to new research to be published in the November issue of the journal Geology. Researchers from the University of Florida examined the fossil record of decapod crustaceans and found that their species diversity plummeted during a sharp decline of reefs nearly 150 million years ago. Read More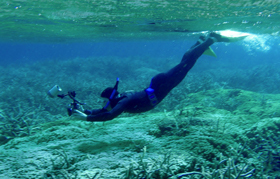 Dr. Michael Webster shoots underwater photos off Roatan, Honduras. Dr. Webster looks forward to answering questions about reefs and CORAL's work; photo by CORAL staff
If you will be in the Bay Area Friday, October 11, please join us at a meeting of the Northern California Underwater Photographic Society (NCUPS) in Millbrae, CA. CORAL's Executive Director, Michael Webster, will be giving a talk entitled "Beyond Beauty: Threats to Coral Reefs and What We Can Do to Help." The talk is free, and the slideshow is thought-provoking, inspiring, and full of incredible images!
WHEN: Friday, October 11, 2013; 7:00 pm
WHERE: Gymnasium at the New Vision United Methodist Church, 450 Chadbourne Avenue, Millbrae, CA
COST: Free!